Roses and Grasses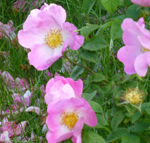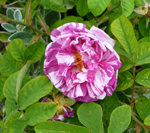 The beauty, romance and richness of some of the old (definition=bred before 1867) shrub roses make them irresistible. These roses may only flower once, but their perfume, colour and form make June special.
I grow a number of Gallica roses, the oldest of the cultivated roses in existence to-day. Rosa gallica 'Complicata' has a large single pink flower. I also have striped Gallicas, both Rosa mundi (pink and white stripes, also known as Rosa gallica 'Versicolor') growing happily in a shady spot behind the pond, and R. Camaieux (deep pink and white), a favourite of Vita Sackville-West. The suckers of both have spread resulting in sizeable clumps.
My favourite Gallica is undoubtedly R. 'Charles de Mills'. The rich purple double flowers are composed of swirls of densely packed petals forming a flower head that looks as if it has been sliced off flat.
I planted Sweet Briar (the Eglantine Rose - Rosa rubiginosa), a British native, in one of the hedges. The small pink flower resembles a Dog rose, but when it rains or is humid, the air is filled with the sweet apple scent released from the leaves. I also grow Rosa glauca (Rosa rubrifolia), more for its beautiful greyish-purple foliage on arching dark stems than its single pink flowers.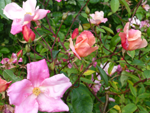 The China rose, Rosa x odorato 'Mutabilis', may not be scented, but it more than earns its keep because of the beauty of the single flowers, which slowly change from apricot to dark pink, and the length of flowering - from Easter until Christmas.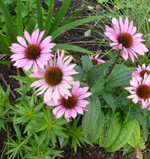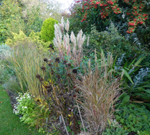 To provide colour, shape and movement in the autumn and winter, when the roses are over, I have put in Echinacea purpurea (Purple cone flower), Amsonia tabernaemontana (rather nondescript blue flowers but the leaves turn a wonderful buttery yellow in the autumn) and the grasses Miscanthus sinensis 'Gnome', Panicum virgatum 'Heavy Metal' and Panicum virgatum 'Rehbraun'. I dug in a lot of gravel to improve the drainage and so far they have survived.